Lentivirus 10X Titer-Up Reagent (Increase virus titer by 5 to 10 times)
Link to Retrovirus 10X Titer-Up Reagent
Name

Lentivirus 10X Titer-Up Reagent (Increase virus titer by 5 to 10 times)

Cat. #

P906S

$129.00

(Fisher Cat.# NC0930839)




P906

$369.00

(1 ml, for packaging 500 ml lentivirus soup)

order from

Fisher

(Fisher Cat.# NC1792390)

How to pay with

Also can buy from :

Application

Increase Lentivirus titer for ~ 5 to 10 times in virus packaging procedure. This product is for research use only.

Description

This virus titer boost is a novel recipe of small molecules designed for increasing / boosting lentivirus packaging efficiency.

Lentivirus 10X Titer-Up stably regulates the viral RNA packaging on the transcriptional level, which can enhance production of lentiviral particles for up to 10 fold.

Increase virus titer by 5 to 10 times
Increase viral RNA transcription
Increase virus particle packaging efficiency

Shipping / Storage

Ship at room temperature and store at 4℃. (

Do not freeze

)

Shelf Life

12 months

Manual (protocol)

101

Bio

.com Lentivirus 10X Titer-Up

Remarks

Each lot of Lentivirus 10X Titer-Up reagent is functionally tested in virus production experiment using 293T cells to ensure the lentivirus titer boosting efficiency.

Follow the recommended NIH BSL-2 guidelines for all materials containing Lentivirus.
Fig. 1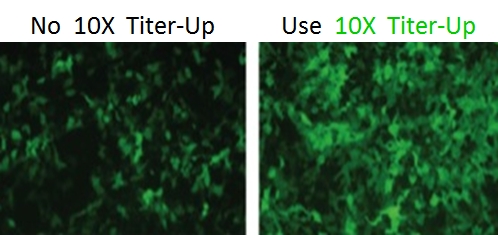 HEK293 cells transduced by GFP lentivirus which was packaged with or without Lentivirus 10X Titer-Up