Retrovirus 10X Titer-Up Reagent (Increase virus titer by 10 times)
Link to Lentivirus 10X Titer-Up Reagent
Name

Retrovirus 10X Titer-Up Reagent (Increase virus titer by 10 times)

Cat. #

P909S




P909

$369.00

(1 mL for packaging 500 mL retrovirus soup)

How to pay with

Also can buy from :

Application

Increase Retrovirus titer for ~ 10 times in virus packaging procedure. This product is for research use only.

Description

This retrovirus titer boost is a novel recipe of small molecules designed for increasing / boosting retrovirus packaging efficiency.

Retrovirus 10X Titer-Up stably regulates the viral RNA packaging on the transcriptional level, which can enhance production of retroviral particles for up to 10 fold.

Increase virus titer by 10 times
Increase viral RNA transcription
Increase virus particle packaging efficiency

Shipping / Storage

Ship at room temperature and store at 4℃. (

Do not freeze

)

Shelf Life

12 months

Manual (protocol)

101

Bio

.com Retrovirus 10X Titer-Up

Remarks

Each lot of Retrovirus 10X Titer-Up reagent is functionally tested in virus production experiment using 293T cells to ensure the retrovirus titer boosting efficiency.

Follow the recommended NIH BSL-2 guidelines for all materials containing Retrovirus.
Fig. 1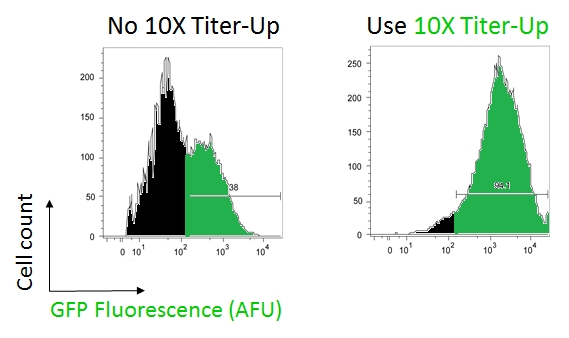 Flow cytometry data shows higher transduction efficiency (higher titer) of GFP retrovirus packaged using Retrovirus 10X Titer-Up (boosted retrovirus titer).